Hardscape Services in New Orleans, LA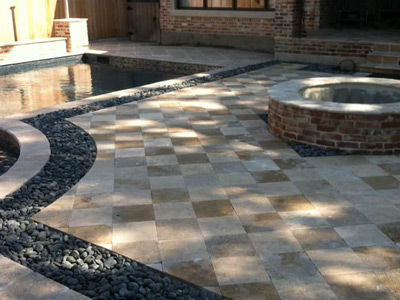 Quality hardscapes are the backbone of any well-designed landscape. They provide structure, durability, and functionality to outdoor spaces. High-quality hardscape elements, such as well-constructed patios, driveways, retaining walls, and walkways, enhance aesthetics and contribute to safety and ease of maintenance.

They withstand the test of time and weather, reducing long-term maintenance costs. They also increase property value and create versatile areas for relaxation and entertainment. We at La Pavers provide high-quality hardscape services in New Orleans, LA, that form the foundation of a thriving landscape, ensuring it remains visually appealing and functional for years to come.


Range of Hardscaping Services
We help transform your outdoor spaces into breathtaking havens, showcasing exceptional craftsmanship and unwavering commitment to delivering top-tier hardscape solutions such as:


Patios - Our customized patio design and installation services create an outdoor oasis. Unwind in style with our well-crafted patios. We understand the importance of having an inviting and comfortable outdoor living area. Our expert team will work closely with you to design a patio that complements your style and needs. Whether you desire a cozy nook for morning coffee or a spacious entertainment area, we've got you covered.


Outdoor Kitchens - Enhance your outdoor culinary experience with a professionally designed and built outdoor kitchen. Entertain effortlessly with a well-crafted outdoor kitchen. Host backyard gatherings in a beautifully designed outdoor kitchen. From grilling to food preparation, our outdoor kitchen solutions combine functionality and aesthetics, creating a seamless alfresco dining experience. Your outdoor kitchen can be as unique as your imagination. We tailor your outdoor kitchen to your specifications, incorporating the features and appliances that suit your culinary aspirations.


Fire Features - Create warmth and ambiance with our elegant fire features. Cozy evenings are just a click away with our exceptional fire features. A well-designed fire feature can extend the usability of your outdoor space, making it perfect for year-round enjoyment. Our team specializes in crafting fire pits, fireplaces, and fire tables that radiate comfort and style. We work closely with you to design a fire feature that complements your landscape design and creates a captivating focal point.


Pool Decks - Turn your pool area into a luxurious retreat with our pool deck solutions. Style and comfort meet in our pool deck designs. La Pavers understands that pool decks should be both aesthetically pleasing and comfortable. Our methods and materials ensure that your pool area becomes a luxurious retreat for relaxation and entertainment. We work closely with you to customize your pool deck, incorporating your desired features and materials, such as natural stone, pavers, or concrete.


Other Hardscaping Services
In addition to outdoor living-related hardscapes we also provide these services:


Pathways and Walkways - Guide your guests through your outdoor paradise with well-crafted surfaces that serve both functional and aesthetic purposes. Our expert team can create pathways and walkways that elegantly connect various parts of your property, providing easy access while enhancing the overall design. We offer a wide array of materials, including pavers, natural stone, and gravel, allowing you to choose the perfect style that complements your landscape.


Driveways - Elevate your property's curb appeal and functionality with a well-designed driveway. Your driveway is often the first thing visitors notice when they arrive at your home. We create stunning driveways that make a strong first impression, enhancing the overall aesthetics of your property.


Retaining Walls - Our retaining wall solutions enhance your property's functionality and aesthetics. Retaining walls can help transform uneven or sloping terrain into functional spaces for gardens, seating areas, or improved property boundaries.


As you can see, we offer end-to-end hardscaping solutions, and our team will work within your budget, ensuring the timely completion of every project. To learn more about our Hardscape Services in New Orleans, LA, contact La Pavers at 504-731-8755. You can also submit your inquiries via our Contact Us form. Our team is here to help and they will return your call to discuss your needs.