Services
We at La Pavers are a leading paving and landscaping company based in Harahan. Our company has been a member of ICPI (Interlocking Concrete Pavement Institute) for the last 9 years and we cater to customers across New Orleans Metairie, Kenner and Marrero. We have also handled a number of commercial and residential paving projects in and around Chalmette, Slidell, Covington, Hammond, as well as Mandeville.
As a company that handles design, planning and installation of paved features, outdoor living installations and retaining wall construction, we have the expertise and experience to handle variety of projects for commercial and residential customers:
Patios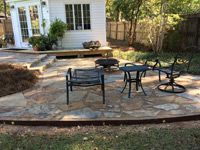 We can design and install patios to your specific requirements. There are a number of different pavers you can choose from such as clay, natural stone and concrete. We can also build dual-functionality retaining walls along the periphery of your patio if you want some fixed seating space in that area. Since pavers are available in a range of colors, designs, textures, colors, shapes and sizes, you get the flexibility to create the kind of look you want on your property. Read More About Patios >>
Pathways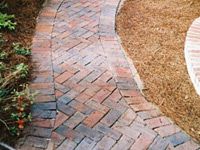 When you have yard and garden spaces, you need to build pathways that lead to different areas of the landscaping. It's the best way to navigate the different features in the landscape such as a lawn, flower beds etc.  These features see a lot of wear and tear and are always exposed to the sun and the elements.
This is why pavers made of concrete, natural stone or clay becomes an ideal flooring option for these spaces. We also recommend the use of slip-resistant paver stones for these spaces and it's also a good idea to get these pavers sealed every two years. We are a full-service company and handle design, installation and maintenance of these features. Read More About Pathways >>
Driveways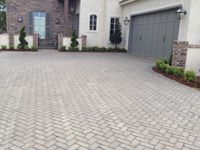 Your driveway sees a considerable amount of wear and tear and has to endure foot as well as vehicular traffic. It is exposed to the sun's UV rays, dust and debris and oil stains from any parked vehicles. This is why it is important that the flooring material you choose for this feature is strong and able to withstand these settings. This is where various types of pavers come into the picture; you can choose from interlocking concrete pavers, natural stone or clay paving stones. Read More About Driveways >>
Pool Decks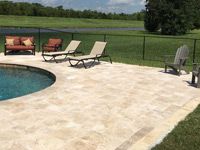 Pool deck spaces see a lot of water and this makes the area very accident-prone as the wet flooring can result in slippage. The one way to avoid this problem is to get skid-resistant paver stones installed. We can install different types of paving including ones made of travertine. This is a permeable natural stone that is ideal for these spaces.
We will design the best pool areas and ensure your property gets a unique and attractive appearance. If you have a multi-deck design requirement, we can design and install that feature too. If you like we can create very unique flooring designs and patterns with the different types of high-grade paving stones that are available on the market today. Read More About Pool Decks >>
Retaining Walls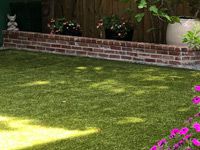 When slopes are excavated in a landscape to make space for any outdoor features, it becomes important to provide the landscape a certain amount of support. We can build specially engineered retaining walls made of concrete blocks. These help build very resilient and durable walls. We can also build retaining walls of stone, brick and wood.
If you like we can incorporate seating and planter features in these retaining walls as well. Our company uses the best materials in the work and ensures that the job is completed to your satisfaction. We can handle retaining wall projects as part of a larger landscaping job or as a landscape upgrade project. Read More About Retaining Walls >>
Outdoor Living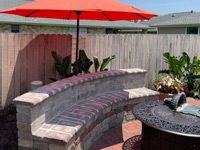 The one way to make the outdoor spaces of your property more functional is to get special features and elements installed. We provide custom patio installations and can design and construct decking, pool areas, terraces and other outdoor structures to add to the beauty and value of your property. When you have well-planned outdoor living spaces, you will find that you are able to use these areas in a more optimal manner. We will ensure that the design concept of these areas complement the look and ambience of your indoor spaces as well as the landscaping. Read More About Outdoor Living >>
Outdoor Kitchens & Fireplaces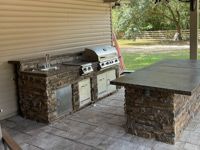 Many property owners like to get outdoor kitchens added to their yard space. We can design a patio kitchen for you or can construct one in any other area of your backyard as well. The outdoor kitchen floor could be made of concrete, natural stone or brick paving. We plan this feature to perfection and ensure the installation is done in the best possible way. We also design and install fireplaces and the surrounding areas. We can provide you the custom designed fireplace you want and will also pave the surrounding space in the material of your choice. Read More About Outdoor Kitchens & Fireplaces >>
Fire Pits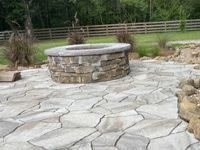 Transform your backyard into a cozy and inviting oasis with a custom fire pit from our company. Our expert team understands the importance of personalized outdoor spaces, and we take pride in creating unique fire pit designs that cater to your specific needs and preferences. From conceptualization to construction, we collaborate closely with you, blending your ideas with our expertise and creativity to deliver exceptional results. We prioritize aesthetics, ensuring your fire pit seamlessly complements your landscaping and outdoor features. Using only the highest quality materials, we guarantee durability and longevity for your fire pit, making it a stunning focal point in your outdoor area. Whether you prefer a traditional or contemporary design, our skilled craftsmen will bring your vision to life, creating a charming gathering spot for relaxing evenings and entertaining guests. Enhance your backyard experience throughout the year with a custom fire pit that adds warmth, ambiance, and charm to your outdoor space. Read More About Fire Pits >>
Travertine Pavers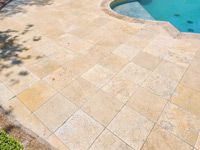 Travertine is a very popular material used in landscaping projects. This is a natural stone that is permeable in nature. It is ideal for pool areas as well as spa spaces. We have also handled a number of travertine paver installation projects for commercial customers and used this material in patio, deck, entranceway, outdoor kitchen, and driveway and pathway installations. This is a strong and resilient stone that is perfect for various outdoor applications. We use the best materials and workmanship in every project and ensure that the job is completed within the shortest possible time. Read More About Travertine Pavers >>
Natural Stone Pavers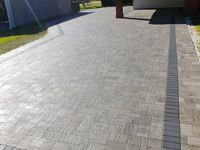 The use of natural stone pavers for your next hardscape or outdoor living project is a great decision. There is no doubt that applying natural stone pavers to elements such as patios, driveways, walkways, pool decks, outdoor kitchens, outdoor fireplaces, fire pits and water features is going to be a win win! Natural stone may have a higher initial cost, but it is a natural product and therefore will withstand all the pressure of the outdoor elements. It is a visually appealing product, and it is also durable and creates long lasting features. Read More About Natural Stone Pavers >>
Artificial Grass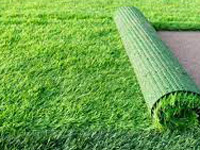 We offer superior artificial grass installations that exemplify a fusion of quality, meticulous planning, and affordability. With a commitment to excellence, we ensure that every step of the installation process reflects our dedication to delivering a superior product. Quality is at the heart of what we offer. From the selection of top-tier artificial grass materials to the precision of installation, we prioritize durability, appearance, and longevity. We aim to provide a lush and vibrant alternative to natural grass that withstands the test of time. We don't just install artificial grass; we design a tailored solution that suits your space and preferences. We collaborate closely with you to create a plan that optimizes aesthetics and functionality, ensuring a seamless integration into your environment. We believe that everyone should have access to the benefits of artificial grass. Our competitive pricing ensures that transforming your outdoor space doesn't break the bank while still delivering a high-quality product. Our team is here to answer your questions, provide insights, and guide you through the decision-making process. Read More About Artificial Grass >>
Our company never compromises on any count when we are handling any project and we tackle small projects with as much dedication as large-scale ones. We are the experts that provide you excellent services at very reasonable paver patio cost. You can call La Pavers to discuss your project details at this number- 504-731-8755. Alternatively, you can request a free estimate or send us your queries via this online form and we will respond soon.