Paver Installer in Metairie, LA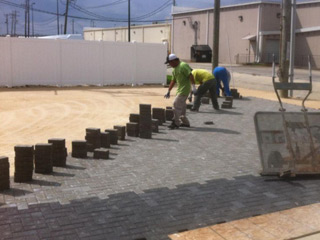 La Pavers is the preferred paver installer for local residential and commercial property owners in Metairie, LA. We offer unmatched pricing, top-notch artistry, high-quality materials, and creative design. Regardless of the size of your project, our company's design and installation specialists can work with you to create the outdoor space of your dreams that will improve your property and give you years of pride.

We are dedicated to upholding the most extraordinary safety, efficiency, and productivity levels, which are supported by a culture of results leadership. Since we strive more than our competitors to complete projects on schedule and within budget, we are better positioned. Our corporate strategy focuses on one individual task at a time to build long-lasting relationships with our clients.


Patios
Your patio is an addition to your indoor spaces and a component of your backyard. It implies that these surfaces must harmonize with both areas. We are a knowledgeable and experienced business that provides premium paver patio installations at competitive prices. Pavers have quality of durability.

These materials are versatile and can be used in various outdoor settings on your property. Pavers can be made of natural stone, concrete, or brick. We can install interlocking pavers skilfully and professionally. With our skilled paver installers handling the job, you will have a patio in the shortest time possible.

Our professionals will give you all the necessary details about the different paver materials, including their corresponding advantages and disadvantages. We design distinctive paver patterns that blend in with the design and aesthetic of your landscape or backyard, so it looks fantastic and works well for years.


Pathways
Our specializations include creating innovative methods to deliver top-notch yet always practical and customized paver pathway installations. We have accumulated a wealth of experience through years of performing this type of work in backyards, which we employ to benefit our clients.

The result of this process involves taking measurements, examining drawings, and drafting plans is a unique outdoor living area with well-planned walkways. Our team will help you select the most suitable pavers for your needs, and we will install these per manufacturer guidelines to industry standards. We have the skills, experience, and resources required to complete these projects from beginning to conclusion.


Driveways
Paver driveways are typical components of most homes and businesses. Because interlocking pavers are substantially more dependable than gravel, asphalt, or concrete driveways, many people prefer them. These surfaces are easy to install and keep clean and look great in any setting. We will give you the ideal designs and ideas for pavers made from concrete, clay, or natural stone.

Additionally, if you require it, our team will assist you with replacing your current concrete driveway with a more appealing paver installation. When appropriately maintained, paver driveways can last more than 40 years, giving you the best return on your investment.

We ensure that every unit is built correctly and is solid and durable, which is essential in areas with a lot of foot and vehicle traffic. Each hardscaping job is completed by our professionals per industry standards, providing you with the best and longest-lasting exterior surfaces imaginable.


Customized Paver Installations
We will handle all aspects of your paver installation project with the least stress or strain. We are eager to help you plan your new pool deck and outdoor kitchen or install a stunning driveway on your property.

For more details about how our paver installer Metairie, LA team, can help with your next landscaping or outdoor living project, please call La Pavers at 504-731-8755. You can send our company your requests/queries via this Contact Us form. One of our experts will call you back soon to discuss your requirements.