Pathways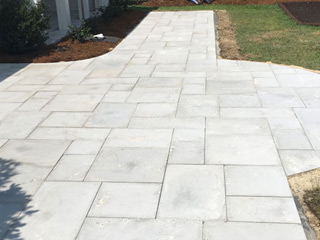 Your landscape is the backdrop of your home and it's one of the first things that any visitor to your property sees. It goes without saying that when these outdoor spaces are designed and installed well, you will be encouraged to use them more often and it increases the value of your property as well.
We at La Pavers are a leading paving company based in Harahan. We have been a member of ICPI (Interlocking Concrete Pavement Institute) for the last 9 years and cater to customers across New Orleans Metairie, Kenner and Marrero. We have also handled a number of commercial and residential paving projects in and around Chalmette, Slidell, Covington, Hammond, as well as Mandeville. 
Many people have lawns and flower beds in their front and backyard. While a lawn adds to the greenery and liveliness of the property, you need to maintain it well. The one way to do this is to get pathways and walkways installed. These stone paved paths would have to be planned and installed well and they become the perfect way to get from one area of the yard to the other without trampling on the lawn or flower bed areas.
Many people also like to install paver paths leading away from the driveway, towards different parts of the garden. The one way to maintain cohesiveness in this space is to use similar flooring materials for the driveway and garden paths. Many of our clients hire us for this complete job, but we can also handle standalone projects where we pave only the pathways on your property.
Paver Pathway Design
You have the option to choose between natural stone, clay or concrete paver stones for your pathways. All these materials are available in a range of textures, designs, patterns and colors. If you already have some paved areas on your property, we can match the new pavers to the older ones to create a seamless look in your landscape.
On the other hand, if you want to create a more whimsical and contrasting look in your yard spaces, you can opt to get combination pavers installed. Our designers will create unique designs with stone paver borders and clay paving along the length of the pathway.  You can also get natural stone edging installed to complete the look. If you like, we can also seal the surface of the clay paving stones if you like. This makes the pavers resistant to dust, dirt and oil stains.
Custom Paving Solutions
When you come to us with your requirements, we ensure that you get the best services and that you are 100% satisfied with the solutions we provide. You will find our technicians work efficiently and professionally and the pathway paver installation project will be completed on time, in a very methodical and meticulous manner.

We are the experts that provide you excellent services at very reasonable paver patio cost. You can call La Pavers to discuss your project details at this number- 504-731-8755. Alternatively, you can request a free estimate or send us your queries via this online form and we will respond soon.