Outdoor Living Services in Kenner, LA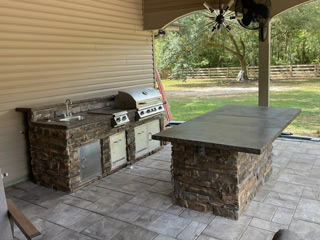 La Pavers is a leading provider of customized outdoor living services in Kenner, LA. We understand that outdoor living areas can add immense value, functionality, and expanse to a property but require proper planning and attention to detail.

It's why we offer a range of outdoor living solutions designed to meet each client's unique needs. Our expert designers will work closely with you to understand your vision and create an outdoor living space tailored to your needs and budget.

Whether you want a cozy patio area for entertaining guests or a complete outdoor kitchen for hosting summer barbecues, we have the expertise and experience to deliver superior results. Some of our outdoor living services include:


Patios and Decks
At La Pavers, we don't just plan and design paver patios and decks; we also provide expert installation services. Our team of professionals is equipped with the latest equipment and techniques to ensure your outdoor living space is installed with the utmost precision and care. We use only high-quality materials, ensuring that your patio or deck will stand the test of time and withstand the elements.

Our installation process is timely and efficient, ensuring your new outdoor space is ready to be enjoyed as soon as possible. With our complete design and installation services, you can trust us to create the perfect outdoor living space for you and your family.


Outdoor Kitchens
An outdoor kitchen can take your backyard to the next level and provide the perfect space for hosting summer barbecues and entertaining guests. Our team of experts will work with you to design and install a customized outdoor kitchen that meets your specific needs and budget. We offer a range of materials and appliances, including stainless steel grills, refrigerators, sinks, and more, so your new outdoor kitchen is functional and stylish.


Fire Pits and Fireplaces
A well-designed fire pit or fireplace can create a cozy and inviting atmosphere in your outdoor living area. Our team of experts will work with you to design and install a customized fire pit or fireplace that complements your outdoor space and meets your specific needs. We offer a range of materials and styles, including natural stone, brick, and more, to ensure that your fire pit or fireplace is hardy and aesthetically appealing.


Retaining Walls
we provide exceptional retaining wall design and installation services. Our retaining walls not only add support to the landscape, but we can also build dual use retaining walls around patios and fire features. Our team of experts is well-equipped to handle all types of retaining wall installations, from simple to complex designs.

We use high-quality materials and state-of-the-art equipment to ensure timely and cost-effective installations. We also take pride in providing personalized services to our clients and meeting their specific needs.


High-Quality Outdoor Living Installations
We provide timely installation within budget without compromising on quality. Our experienced technicians will ensure that every outdoor living installation is completed to the highest standards, using only the best materials and equipment. We also offer maintenance and repair services to ensure that your outdoor living area continues to look and function its best for years to come.

We stand behind our work and offer guarantees on all outdoor living installations. Our team will work with you every step of the way to ensure that your outdoor living area exceeds your expectations.

For more details about our outdoor living services in Kenner, LA, please call La Pavers at 504-731-8755. You can use this Contact Us form to send us your requests or queries, and we will call you back soon to discuss your requirements.