Fire Pits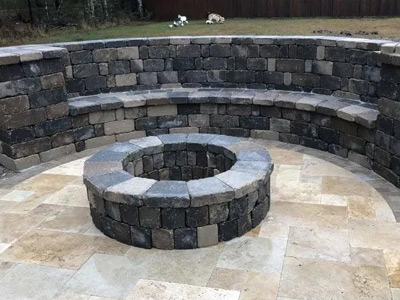 When it comes to adding amenities that increase the aesthetics and utility of your home, outdoor fire pits have become a popular choice among homeowners in the region. At La Pavers, we are a leading provider of hardscaping services in and around Harahan, LA. We specialize in designing and building unique fire pits and other hardscaping features.


Why Choose A Fire Pit?
One common question is why someone would opt for a fire pit instead of a fireplace. Here are some reasons to consider:


Versatility - Fire pits offer greater versatility than fireplaces, which tend to dominate their surroundings. Depending on your preference and the space available, they can serve as a focal point or be discreetly tucked into a corner.


Social Gathering - Fireplaces are ideal for intimate gatherings, but fire pits create a different ambiance. They allow people to gather around the fire, creating an atmosphere reminiscent of a campfire. Fire pits are perfect for hosting events and entertaining multiple guests.


Style Options - While fireplaces offer limited design choices, fire pits provide more versatility. You can opt for a fire table, fire hearth, or fire bowl and choose between gas, wood, or propane as the fuel source. Additionally, we can enhance your fire pit's aesthetic appeal and heat-absorbing potential by lining it with lava rock, river rock, or recycled glass.


Unobstructed Views - Unlike fireplaces, fire pits won't dominate your backyard or obstruct the view. You can enjoy uninterrupted views of your entire outdoor space while still enjoying the warmth and ambiance of a fire pit.


Affordability - Fire pit installations are more cost-effective than fireplaces, which can be expensive. Even a compact fireplace can come with a hefty price tag. In contrast, a fire pit can be as straightforward as a brick-built pit filled with wood, making it a more affordable option.
Customized Fire Pit Design
Before constructing your outdoor fire pit, it's essential to consult with qualified hardscaping professionals like us. We consider local building regulations, safety considerations, and the project's positioning. Our experienced team will guide you through these aspects and ensure that your fire pit is designed to meet all requirements. If you need the fire pit to blend seamlessly with your existing landscape, we will use materials that complement your desired style and look.


Cost-Effective Installations
We pride ourselves on using premium materials and employing the finest craftsmanship in all our projects. We believe in delivering fire pits that enhance the functionality and value of your backyard. Our installations are superior in quality and come at reasonable prices. We work closely with you to ensure that every aspect of your fire feature aligns with your needs, resulting in functional and elegant outdoor spaces.

For more details about our fire pit installations, call La Pavers at 504-731-8755. You can send your requests/queries to our company via this Contact Us form. One of our experts will call you back soon to discuss your requirements. You will find that they are knowledgeable and helpful and will readily answer all your queries to start your project.