Pool Decks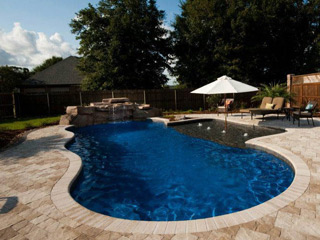 When designing a poolscape, there are often a number of flooring options to choose from. You can use different materials for pool deck surfacing such as wood, brick, tile, poured concrete etc. However, it's very common to see pool decks with paving stone. What is it that makes this a popular material and an excellent option for pool areas?
We at La Pavers are a leading paving company based in Harahan and have seen that pavers are now  the preferred option for most outdoor spaces. We have been a member of ICPI (Interlocking Concrete Pavement Institute) for the last 9 years and cater to customers across New Orleans Metairie, Kenner and Marrero.
Our company has also handled a number of commercial and residential paving projects in and around Chalmette, Slidell, Covington, Hammond, as well as Mandeville. You can choose from pavers made of concrete, stone or clay. All of these look stunning in these settings and become the perfect backdrop for your pool installation.
Pool Paver Benefits
There are a number of reasons why pool paving stones are an excellent option for decking in these areas, such as:
Durability- When it comes to durability, pavers are unbeatable. Timber tends to fade and splinter over time while concrete slabs can crack. Brick tends to shift and crack as well when it is installed with mortar. With this in view, paver stones become the perfect choice for pool decks. You have the option to choose between concrete, natural stone or clay paving.
Safety- Natural stones such as travertine are widely used in these applications because the stone is permeable. This means all the water that falls on these pavers quickly finds its way into the ground underneath. This essentially makes the surface slip-resistant, it stays cool and doesn't burn bare feet. There are also a number of slip-resistant concrete pavers to choose from and this adds to the safety of the installation.
Design Flexibility- Pavers look stunning and when you have paving installers like us handling the project, you can rest assured that the pool decking will look great and last for a number of years with the least amount of maintenance. Since pavers are available in a range of styles, colors, designs, shapes and sizes, you have the flexibility to create the designs and look you want in your poolscape. We work very closely with you to understand what your preferences are and then provide solutions that work best for you.
Overlay Paving Solutions- If you already have concrete decking that is in fairly good shape, but prefer the look of pavers in this space, you can opt for thinner paver overlay installations. This solution is significantly more cost-effective than ripping out the entire concrete surface and installing pavers of a standard thickness.
Regardless of whether you want to get your residential or commercial pool deck surfaced, we can handle the job for you. We are the experts that provide you excellent services at very reasonable pool deck paving cost. You can call La Pavers to discuss your project details at this number- 504-731-8755. Alternatively, you can request a free estimate or send us your queries via this online form and we will respond soon.