Natural Stone Pavers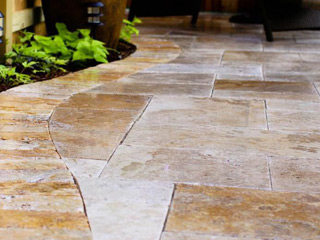 Natural stone has a timeless appeal, and many local property owners prefer to install natural stone pavers in their landscapes and outdoor living areas. La Pavers is a leading provider of natural paver installations in Louisiana. We cater to residential and commercial clients, offering customized paver design and installation solutions.

With our extensive range of high-quality paver products and our commitment to exceptional craftsmanship, we can transform your outdoor spaces into stunning and functional areas in which you'll love to spend time. Here's a closer look at some of the paver options we offer.


Travertine Pavers
Travertine pavers are a popular choice for their timeless beauty and durability. Here's what sets them apart:
Natural Elegance - Travertine pavers exude elegance and sophistication with their unique patterns and earthy tones.
Versatility - Whether you're looking to create a patio, pool deck, or walkway, travertine pavers can be used to achieve a variety of design styles, from modern to rustic.
Durability - Travertine is a dense and durable natural stone that withstand heavy foot traffic, extreme weather conditions, and regular wear and tear.
Heat Resistance - Due to their heat-resistant properties, travertine pavers remain cool underfoot, making them ideal for areas exposed to direct sunlight.
Porcelain Pavers
Porcelain pavers offer a perfect blend of style and functionality, making them an excellent choice for outdoor applications. These are their key features:
Aesthetic Appeal - Porcelain pavers come in various colors, textures, and sizes, allowing you to achieve the desired look for your outdoor space.
Low Maintenance - These pavers are highly resistant to staining, fading, and scratching, making them easy to clean and maintain.
Slip Resistance - With their textured surfaces, porcelain pavers provide excellent slip resistance, ensuring safety in wet or high-traffic areas like pool decks or walkways.
Frost Resistance - Porcelain pavers are designed to withstand freeze-thaw cycles, making them an ideal choice for regions with colder climates like Louisiana.
Flagstone Pavers
Flagstone pavers are known for their natural beauty and versatility. Here's why they are a popular choice among our clients:
Natural Charm - Flagstone pavers exhibit a distinct, rustic charm, adding character and warmth to any outdoor space.
Irregular Shapes - These pavers come in varying shapes, allowing for unique and creative design possibilities.
Weather Resistance - Flagstone is a durable and weather-resistant material that can withstand the harshest conditions, making it suitable for long-lasting outdoor installations.
Low Maintenance - With minimal maintenance requirements, flagstone pavers are an excellent choice for those seeking a hassle-free outdoor solution.
Bluestone Pavers
Bluestone pavers are prized for their timeless beauty and durability. Here's what makes them stand out -
Elegant Appeal - Bluestone pavers feature a stunning blue-gray hue that adds a touch of elegance and sophistication to any outdoor setting.
Natural Texture - The natural cleft surface of bluestone pavers provides a unique texture, creating a visually appealing and slip-resistant surface.
Longevity - Bluestone is a dense and durable stone that can withstand heavy foot traffic and withstand the test of time, making it a wise investment for your outdoor spaces.
Versatility - Bluestone pavers can be used for diverse outdoor applications, including patios, pathways, and pool surrounds, complementing traditional and contemporary design styles.

For more details about how we can help with your natural stone paver installation requirements, please call La Pavers at 504-731-8755. You can also send us your requests/queries through this Contact Us form.