Pergolas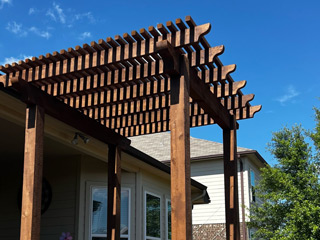 Pergolas are outdoor structures typically consisting of vertical posts or pillars that support crossbeams and an open lattice roof. They serve both practical and aesthetic purposes, providing shade, defining outdoor spaces, and adding a touch of elegance to gardens and patios.

At La Pavers, we offer high-quality pergolas to clients in and around Harahan, LA. Our pergolas are crafted with precision and attention to detail, using durable materials that withstand the elements.

Whether you seek a cozy retreat, a picturesque garden feature, or a shaded area for outdoor gatherings, our pergolas are tailored to meet your needs, enhancing your outdoor living experience with style and functionality.


Types of Pergolas We Provide
Here are the various types of pergolas we specialize in:


Classic Wooden Pergolas - Timeless and versatile, wooden pergolas offer a warm and natural aesthetic. They are crafted from cedar, redwood, or pressure-treated wood for durability and are ideal for traditional and rustic outdoor spaces.


Modern Metal Pergolas - These Sleek and contemporary metal pergolas add a touch of sophistication. Materials like aluminum and steel provide durability and a minimalist look perfect for modern or industrial-style landscapes.


Rustic Cedar Pergolas - Cedar wood exudes rustic charm and natural beauty. It creates a cozy and inviting atmosphere, perfect for cottage-style gardens or country retreats.


Mediterranean-Style Pergolas - Inspired by Mediterranean architecture, these pergolas often feature stucco columns and clay tile roofs. They are ideal for creating a Mediterranean ambiance in your outdoor space.


Arched Pergolas - Characterized by arched tops, these pergolas add elegance and a sense of height. These structures are ideal for enhancing the aesthetics of garden entrances or walkways.


Freestanding Pergolas - As their name suggests, the pergolas stand independently and can be placed anywhere in your outdoor space. They are versatile and adaptable to various styles and locations.


Attached Pergolas - Attached to the side of a building or structure, such as a home or garage, these pergolas seamlessly extend your indoor living space into the outdoors.


Customized Pergola Design and Installation
Our customized pergola design and installation are the hallmarks of a truly exceptional outdoor space. It matters because:


Customization allows you to bring your unique vision to life, creating a pergola that perfectly complements your style and space.


Your pergola can be designed to meet your specific needs, whether providing shade, defining an outdoor room, or supporting climbing plants.


Custom designs ensure that your pergola harmonizes seamlessly with your landscape, elevating its visual appeal.


Custom-built pergolas are crafted with precision, using high-quality materials, ensuring longevity and durability.


A customized pergola reflects your personality and taste, making your outdoor space truly yours.


These tailor-made outdoor structures will enhance your property's beauty, functionality, and individuality.


Cost-Effective Pergolas
We provide affordable pergola installations that align with your budget without compromising quality or aesthetics. We believe value is paramount, and our goal is to offer you outdoor structures that enhance your living space without breaking the bank.

Our cost-effective solutions ensure that you receive the best value for your investment, transforming your outdoor area into a stylish and functional retreat. With our affordable pergola installations, you can enjoy the benefits of outdoor living while staying within your budget, making your outdoor dreams a reality without financial strain.

To learn more about our pergolas, contact La Pavers at 504-731-8755. Alternatively, you can submit your inquiries through our Contact Us form. Our experienced team is eager to assist, and they will promptly return your call to discuss your needs. Expect knowledgeable and helpful responses to kickstart your project with confidence.