Outdoor Kitchens & Fireplaces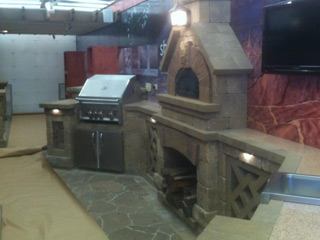 Your yard spaces offer you a number of opportunities to spend relaxed moments with your friends and family. But that can happen only when you plan these areas well and ensure that they have the right features and installation. The one way to make the most of your back yard is to get an outdoor kitchen installed on your property.
We at La Pavers are a leading paving company based in Harahan. We have been a member of ICPI (Interlocking Concrete Pavement Institute) for the last 9 years and cater to customers across New Orleans Metairie, Kenner and Marrero. We have also handled a number of commercial and residential outdoor kitchen projects in and around Chalmette, Slidell, Covington, Hammond, as well as Mandeville.
Concrete Pavers for Outdoor Kitchen Spaces
Your outdoor kitchen may either be open-to-the-air or partly enclosed. Regardless of the type of structure you opt for, you need to ensure that the materials used in this installation are resilient and that they are able to withstand climatic changes. When customers come to us with their requirements for an outdoor kitchen, we recommend the use of concrete pavers for the floor because: 
These units are ideal for all outdoor spaces and if you are getting a driveway, pathways and walkways installed, you can match the look of the kitchen pavers with these elements too.
You can opt for interlocking pavers as these lend a considerable amount of stability to your outdoor kitchen flooring.
The right type of pavers can complement the look and feel of the indoor spaces that lead to the patio as well as the landscaped areas on your property. This helps create a very cohesive look on your property.
The cobbled stone paving can also be used to complement the look of a stone fireplace.
We also handle all the outdoor lighting and other design and installation aspects of an outdoor kitchen project.
Outdoor Fireplace Zones
Many homeowners like to get fireplace installations on their property. It is one of the best ways to add to the beauty and warmth of the yard. It makes the space more functional and you are able to use your yard even when there is a nip in the air. Some people like to get a fireplace installation for their outdoor kitchen, and we can help with that as well. We can design and build fireplaces made of concrete, brick or stone.

When you get a fireplace build even in an open area, you need to beautify the space around it and create seating spaces etc. Paver stones can be used to create a classic fireplace area; since these are resilient, they don't get impacted by the weather. You can also get these pavers sealed to prevent any damage and scratches from outdoor furniture legs and rusting.

We are the experts that provide you excellent services at very reasonable outdoor kitchen paving cost.  We use the best materials and workmanship and ensure the work is completed within the stipulated timeframe. You can call La Pavers to discuss your project details at this number- 504-731-8755. Alternatively, you can request a free estimate or send us your queries via this online form and we will respond soon.